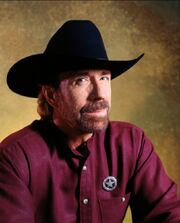 Cordell "Marshal" Walker is the protagonist in
Walker, Texas Ranger
. He is played by
Chuck Norris
, the six time world karate champion, making him ideal for Cordell's martial arts skill.
Cordell Walker is a contemporary Texas Ranger working out of the Dallas office who believed in dealing with criminals the old-fashioned way--by beating them up. Despite the rules that governed the way law-enforcement officers were supposed to act. Walker's approach closely resembled the "eye for an eye" school of crime fighting. Before joining the Texas Rangers, Cordell served in the Marines and was a kickboxing champion.
Cordell Walker is a Dallas Fort Worth-based (Company B) member of the Texas Department of Safety's Texas Ranger Division. Cordell Walker was born on 30 December 1947. Walker's parents were killed when he was a little boy and as a result, Walker was raised by his paternal uncle, a Native American named Ray Firewalker (Floyd Red Crow Westerman). 
In the mid-1960s, Walker joined the Marine Corps and served in Vietnam; during his time in the Marines, Walker was stationed in Japan, where he befriended a local family, whose patriarch (Mr. Sakai) taught Cordell the martial arts. After his term of service ended, Walker continued to practice martial arts, which led him to competing in kickboxing tournements, cultimating into him becoming a kickboxing champion.
Around this same time, he began to pursue a career in the Texas Rangers, which he achived and eventually rose to the rank of sergeant. His partner and best friend is James "Jimmy" Trivette (Clarence Gilyard), a former Dallas Cowboys player "Go Long T" who takes a more modern approach. Walker's young partner grew up in Baltimore and used football as his ticket to college education. He was dropped from the team after he tore up his shoulder in a major game, which led to his career in the Rangers (often making references to watching the "Lone Ranger" and how CD Parker mentored him as a Rookie Officer). Trivette also works inside the office using computers and cellular phones to collate information of the people who've been taken into custody.
Walker also works closely (and shares a mutual attraction) with Alexandra "Alex" Cahill (Sheree J. Wilson), a Tarrant County Assistant District Attorney, who on occasion puts up a frown if Walker doesn't obtain results in time. He also gets advice on cases from C.D. Parker (Noble Willingham), a veteran Ranger (later inducted into the Texas Rangers Hall of Fame) who worked with Walker until retiring to operate a small restaurant and bar called "CD's Bar and Grill", a restaurant widely known for its chili. Cordell and Alex Cahill eventually get married (20 May 2000) and have a daughter named, Angela (b. ca. 19 May 2001).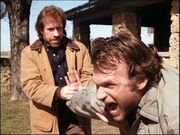 Cordell is extremely skilled in martial arts, mainly Karate, which helps when prosecuting antagonists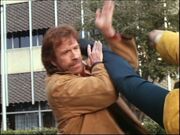 and aiding friends. Cordell is a former kickboxing champion. But Cordell's skills in martial arts is not his only skill.

He is skilled enough in NASCAR racing to drive for Team Cherokee, when their driver is injured in an incident due to tampering by the opposing NASCAR team.
He is quite the marksmen and driver, able to quickly draw his Berretta 92 and shoot enemies with incredible accuracy and drive a Dodge Ram quickly yet safely and smoothly.
He also poses old Native American skills, he can converse with animals to a point and use his enviroment to find hidden people, hostile or not.
Relationships
Edit
Elizabeth Firewalker (mother)
John Firewalker (father)
Ray Firewalker (uncle)
Alex Cahill (wife)
Angela Walker (daughter)
Billy Graywolf (sworn brother)