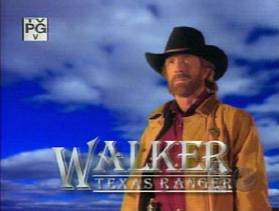 Walker, Texas Ranger was an American television western/police dramatic series, created by Leslie Grief and Paul Haggis. It aired on CBS with three pilot episodes followed by eight full seasons, from April 21, 1993 to May 19, 2001, was broadcast in over 100 countries, and has since spawned at least one made-for-television movie. It was originally conceived on August 6, 1987. DVD sets of the first, second, third, fourth, and final seasons have been released.
Syndication
Edit
Beginning in 1997, reruns of the show entered syndication, USA Network was the first channel to acquire Walker, Texas Ranger in 1997, Showcase Action later acquired Walker, Texas Ranger, and then Hallmark Channel bought the show, Walker, Texas Ranger was removed from the Hallmark Channel lineup, and TV Land picked up Walker, Texas Ranger. Walker, Texas Ranger was removed from the TV Land lineup, and WGN America picked up Walker, Texas Ranger. When Walker, Texas Ranger aired on WGN America, the opening credits were truncated, and the theme song removed, and was replaced by the instrumental version, so they can make room for commercials.
Plot summary
Edit
The show was known for its moral values. For example, the characters refrained from the use of drugs, and they participated in community service. Martial arts were shown prominently as the primary tool of law enforcement and occasionally as a tool for Walker and company to reach out to the community.
The show has gained a following for its camp appeal, thanks largely to its improbable combination of martial arts and modern Western genres, and to the resurgent popularity of its star, Chuck Norris.
Recurring Features
Edit
Walker always arrives just as the antagonist are going to achieve their goal.
Walker bonds with troubled children in the episodes.
Trivette normally ends up in trouble.
Episodes end with light-hearted moments.
Walker preforms a roundhouse kick on an opponent.
The police always win.